Begin Your Journey: How to Kickstart Your Digital Marketing Career
Introduction
The digital marketing industry in India has grown exponentially in the past few years. In fact, it saw steady growth even during the worldwide pandemic that started in 2020. As per the latest CMO Survey, more than half of all businesses (56%) are altering their go-to business models to get the most out of digital marketing opportunities.
With the increasing penetration of the Internet in India and the ever-rising number of smartphone users, the future of digital marketing in the country looks bright. Digital Marketing is a great career choice that has many lucrative job opportunities for skilled people.
With the right skill sets and experience, you can land a job with a handsome paycheck. So, if you want to know how to start a career with digital marketing, read on to know the essential steps and ways in which you can have a flourishing career in the digital marketing field.
Is Digital Marketing a Good Career?
Digital marketing is a lucrative field with immense opportunities for growth and learning if you play your cards right. It is a rapidly expanding domain, absorbing professionals with varied profiles. From graphic designers to SEO experts to content marketers; if you have the appropriate skills, qualifications, and experience, the sky's the limit for you.
Growing Number of Digital Marketing Job Opportunities in India
The demand for skilled and trained digital marketing professionals in India is on the rise as every industry now realizes the potential of digital marketing. From content marketers to SEO experts, there are scores of open positions in the market.
But, the question is, is there enough supply? Are there enough skilled digital marketers to fulfill these requirements? Unfortunately, the answer is no, there aren't, because there is a skills gap.
You are not born a digital marketer; you become one by training yourself. Digital marketing is not a part of the regular courses taught in schools and colleges in India. It is either offered by business schools as part of a specialized course, an optional subject, or a semester course.
Most often, people become digital marketers by accident. A big reason behind it is because many people don't know how to make a career in digital marketing. So let's delve deeper and understand how you can get started.
Digital Marketing Salary
Remuneration majorly depends on the experience and skills of a particular individual. As you gain experience and keep upgrading your skills, you can expect your pay to increase. Various private and public sector organizations look for talented digital marketers and pay them well. As per reports, the average salary of a digital marketing manager in India is anywhere between 3 lakh per annum to 30 lakh per annum, depending on several factors.
Skills Required to Become a Digital Marketer
Before we get into how you can become a digital marketer, it is crucial to assess if this field is apt for you. Is digital marketing a good career choice for you? Do you have the skills and the aptitude to excel in this field? The following skills are desirable to become a successful digital marketer:
Creativity: As a digital marketer, you would be required to use your creative instincts at several points in your career. From content development to using social media, your creativity will come into play a lot.
Innovation: This is a skill that will take you a long way in any career you choose. Being clever, thinking out of the box is the need of the hour, especially in digital marketing. You have to think of strategies and techniques that are new and innovative and work for brands.
Analytical: Apart from being creative, possessing analytical skills will also help you excel as a digital marketer. You should be quick at understanding reports, graphs and charts.
Keen Learner: This is another skill that will act as fuel for you in any career of your choice. With digital marketing being a dynamic field, you have to always be open to learning. From the latest tools and techniques to the newest trends, you must know them all. To succeed, you should want to learn and be on top of your game consistently.
Tips to Start Your Career in Digital Marketing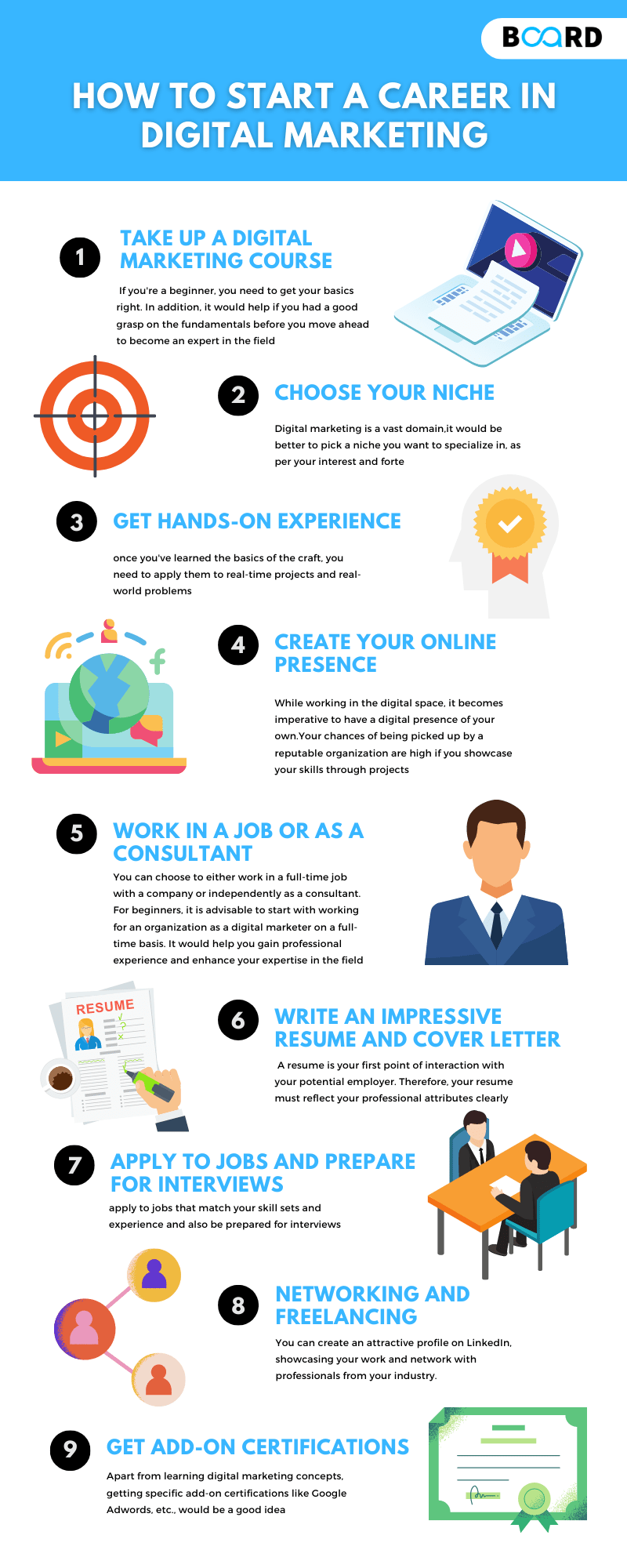 Here are a few ways you can move forward towards building your career in digital marketing:
1. Take up a Digital Marketing Course
Digital marketing, in simple terms, is marketing on the internet. It includes paid as well as organic marketing. If you're a beginner and want to build your career in digital marketing, you need to get your basics right. In addition, it would help if you had a good grasp on the fundamentals before you move ahead to become an expert in the field. It is advisable to pick a full stack digital marketing course that covers all the topics and areas of this field. It should give you comprehensive knowledge on:
Search Engine Optimization (SEO)
Search Engine Marketing (SEM)
Website marketing
Content marketing
Email marketing
Social media marketing (SMO)
Mobile marketing
Video marketing
Google Analytics
Paid marketing
PPC
Content writing
2. Choose your Niche
Digital marketing is a vast domain, including work profiles like SEO experts, content writers, graphic designers, PPC experts, etc. Therefore, it would be better to pick a niche you want to specialize in, as per your interest and forte. For instance, if you think you're good at creating content, you can work as a content writer or video creator.
3. Get Hands-on Experience
So, once you've learned the basics of the craft, you need to apply them to real-time projects and real-world problems. You have to take up internships or just about any opportunity that would let you use your digital marketing skills. As you keep gathering experience, you will start receiving many digital marketing job opportunities.
4. Create Your Online Presence
While working in the digital space, it becomes imperative to have a digital presence of your own. Whether it is your website, your social media page, or at the bare minimum, a portfolio of the work done by you, you must have something to show to your prospective employer. Your chances of being picked up by a reputable organization are high if you showcase your skills through projects you've worked on and the results you were able to produce.
5. Work in a Job or as a Consultant
You can choose to either work in a full-time job with a company or independently as a consultant. For beginners, it is advisable to start with working for an organization as a digital marketer on a full-time basis. It would help you gain professional experience and enhance your expertise in the field, which would further help you grow in your career. Once you're experienced in handling multiple projects of varying budgets, you can work as an independent consultant.
6. Write an Impressive Resume and Cover Letter
Let's talk about how to get a job in digital marketing. You have impeccable skills and an excellent portfolio; all you need now is an impressive resume to start applying to entry-level positions. A resume is your first point of interaction with your potential employer. Therefore, your resume must reflect your professional attributes clearly. It must be compelling enough for the employer to want to talk to you further. Also, attach your portfolio with your resume wherever possible.
7. Apply to Jobs and Prepare for Interviews
The next step is to apply to jobs that match your skill sets and experience using various job portals or directly through company websites. You must also be prepared for interviews. It would be best to have answers to all the possible interview questions you think you could be asked. Be confident and believe in your capabilities.
8. Networking and Freelancing
You can create an attractive profile on LinkedIn, showcasing your work and network with professionals from your industry. Reach out to people and organizations you want to work with and tell them why you think you would be a great fit. Take up any freelancing opportunities that you can find. It can be a great learning experience for you.
9. Get Add-on Certifications
Apart from learning digital marketing concepts, getting specific add-on certifications like Google Adwords, etc., would be a good idea. Since digital marketers primarily work on search engines like Google, you can get these certifications. These certifications are not mandatory, but they add to your profile and give you an edge over your counterparts.
10. Always Keep Learning
Digital marketing is a very dynamic field. The strategies and techniques keep changing from time to time, and digital marketers need to keep up with them. To stay relevant in your industry, you have to never let go of learning. If you wish to thrive in a career in marketing, keep yourself abreast with the latest trends in your industry.
Free Courses to Learn Digital marketing
If you are interested in digital marketing and you want to pursue it further as your career, you can start by enrolling in a course that will teach the fundamentals. You can access free courses available on Board Infinity, a reputable online learning platform. It offers various digital marketing courses that will provide you with comprehensive knowledge. If you're looking for a free digital marketing course with certification, check this out!
Wrapping Up
Almost every company, big or small, has a digital marketing department today. The demand for skilled digital marketers is growing, and looking at the current trends, it will only grow further.
If you're still wondering where and how to start a career in digital marketing, enroll yourself in a Full Stack Digital Marketing Certification and gain expertise and mentoring by top business experts and professionals in search engine optimization(SEO), social media, pay-per-click, web analytics, mobile, and email marketing. After completing this course, you will get a digital marketing certification, personalized coaching, and placement assistance.